1
Bitcoins
Bitcoin News and Search
1 News - 247 News - 247 Bitcoin - 1 Search
Litecoin price up 3.4 percent
The blockchain is a window and an opportunity
Participation level rise as Litecoin prices print higher
Kevin McCarthy believes that blockchain will help build trust in public institutions. Such remarks are bullish for blockchain and could help prices of digital assets as Litecoin recovers from current lows.
Litecoin Price Analysis
Fundamentals
Although we cannot refute the link between Litecoin and Bitcoin, we must agree that there are differences. The latter has a vibrant community. Since it is a public blockchain, changes are hard to make. Instead, laid down procedures must be followed before implementation.
Such is the case with recent findings that elements can use the network to launder cash by paying outrageous fees while sending miniscule amounts. It may be legal and perfectly played by the book. However, it is the increasing frequency of accidental fat fingers that may even be a source of investigation.
Overly, it is good that there is adoption. The resulting network effect not only draws attention to a superior network with better accountability and high-level transparency but also cements the mainstream argument that blockchain is practical and represents the future of finance.
Whenever a firm or an individual decides to shift to the blockchain, the benefits are many and across the board. It is these benefits that Kevin McCarthy, a Republican House of Representative, says modernization of the Congress is a "window and an opportunity."
In his testimony, he sees it fit that the US government develop its blockchain as this will help towards building trust in public institutions.
"What I'm looking for is building greater confidence in the institution that we have – utilizing the 21st-century technology to make us more customer friendly but at the same time give us greater information that can hold us accountable in this process."
Candlestick Arrangement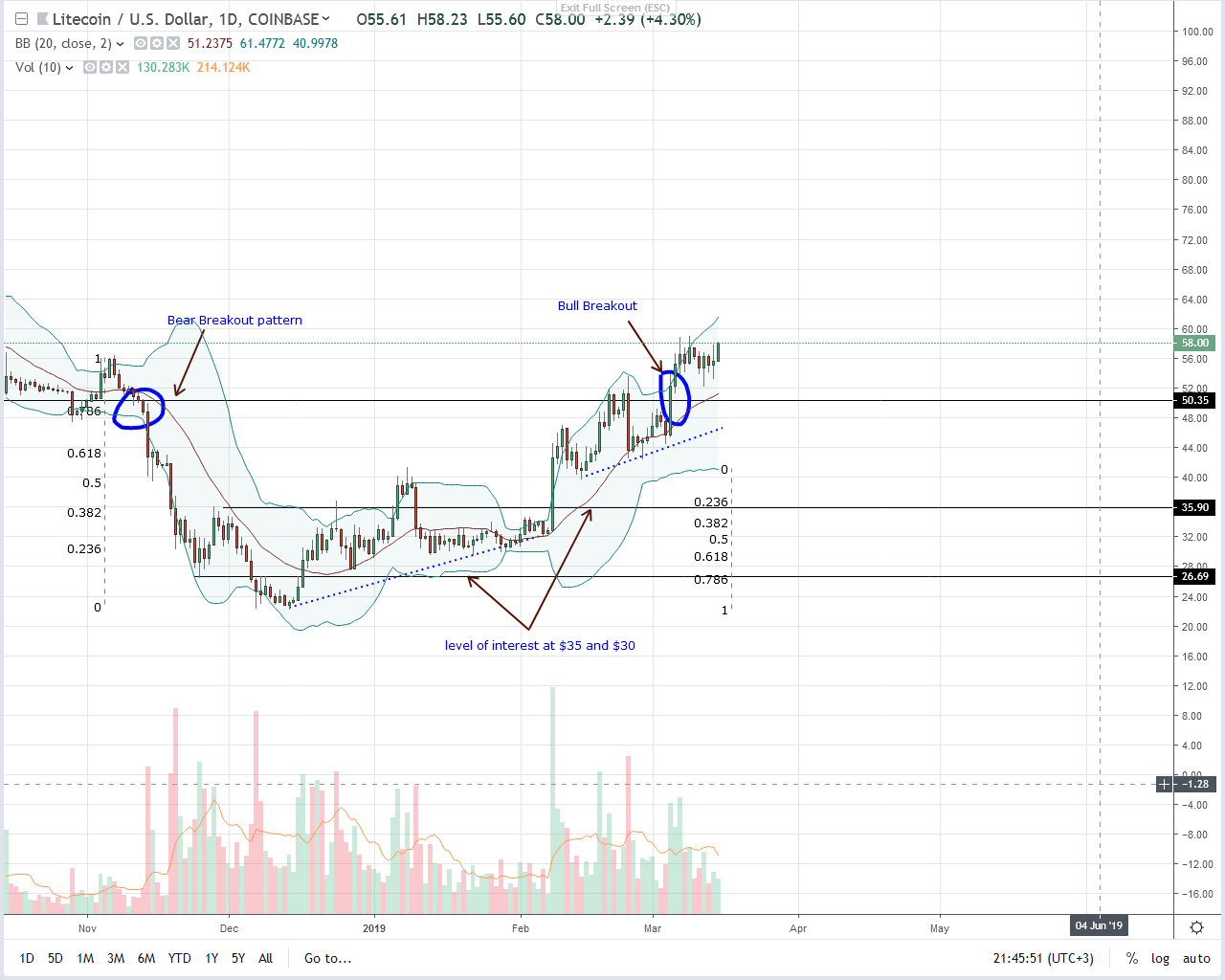 The magnifier effect of Bitcoin means Litecoin (LTC) bulls are back. In a breakout pattern, the path of least resistance is clear, and as long as prices are trading above $50, every correction is a loading opportunity. The first target remains as it is from previous LTC/USD trade plans and as both sets of traders participate, resulting demand could further drive prices higher affirming our stance.
Technical Indicators
Prices are stretched and likely overvalued. After days of consolidation, today's bar points to underlying demand. In that case, any rally breaking above $60 should have high trading volumes exceeding 426k of Mar 7.