1
Bitcoins
Bitcoin News and Search
1 News - 247 News - 247 Bitcoin - 1 Search
Litecoin prices surge, up 27.8 percent in last week
Lightning Network capacity up 76 percent
Participation levels up, averages increase from 954k in mid-Nov to 1.5 million by last week's close
Pumping Litecoin is renewed interest and technical factors. Now that LTC prices are trading above $50 in a bull breakout pattern, Litecoin stands to rally with first targets at $70.
Litecoin Price Analysis
Fundamentals
As alternative and superior money for the web, the primary driver has to be adoption. The more Litecoin (LTC) finds utility, the more its value will skyrocket pushing it to the mainstream. We have had several campaigns like #PaywithLitecoin complete with a functional website showing the number of merchants and other metrics. However, it is the growing social media attentions Litecoin has been receiving in the last couple of weeks. Aside from price revival, the Litecoin Foundation sponsors the UFC and what's more? Development is picking up. The end move is to make Litecoin a go-to currency for all and sundry.
For this reason, the network is keen on adding Confidential Transactions (CT) as well as Mimble Wimble tech as features in days ahead. Add that to their working synergy with Bitcoin—as its silver, and myriads of opportunities open up. Note that like Bitcoin, Litecoin is interested in the Lightning Network and similar to BTC LN, their LN is gaining traction.
Statistics from 1ML indicate that the number of nodes edged up 17 percent to 162 while the network capacity increased by 76 percent handling $8,095.49 at the time of press. Compared to Bitcoin's, Litecoin LN capacity is 4X in nominal terms.
Candlestick Arrangement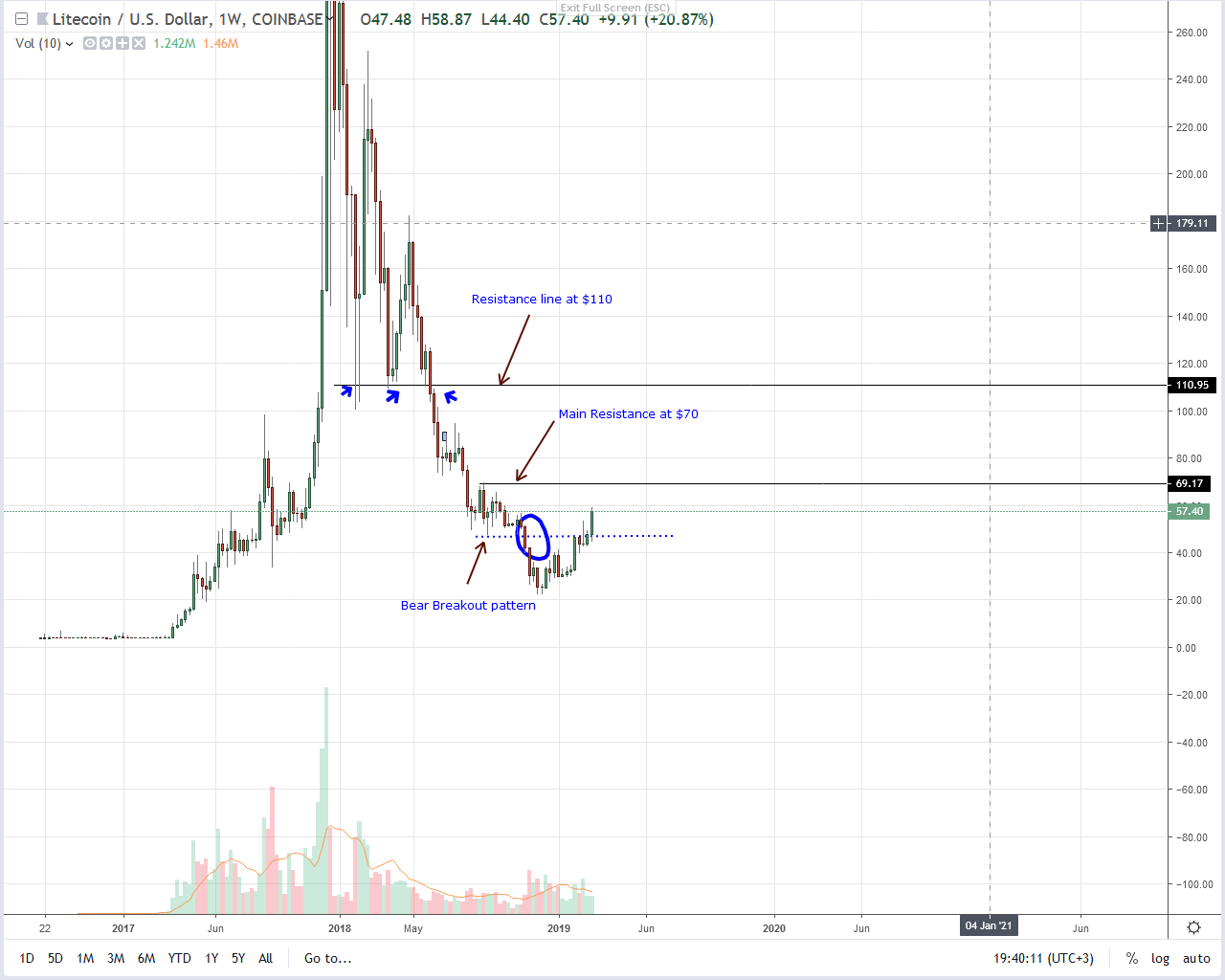 It is official, the bear breakout pattern of mid-Nov 2018 is null and Litecoin (LTC) bulls are therefore in control. With an impressive performance, Litecoin is cementing its position at fourth gaining 27.8 percent in the last week. From the chart, it is likely that Litecoin will close above $50—a milestone, a level last retested in Dec 2018. Since we are trading within a bullish breakout pattern both set of traders can fine-tune entries in lower time frames with aims at $70 and later, $110.
Technical Indicators
Distinguishing price action of mid to late Q4 2018 are high average volumes. Note that the breakout bar of the week ending Nov 18 had averages of 954k. When we compare with those of week ending Mar 3 at 1.5 million, it is clear that there is participation. Luckily, prices are edging higher, closing above $50 canceling the bear break-out pattern set in motion in mid-Nov.