1
Bitcoins
Bitcoin News and Search
1 News - 247 News - 247 Bitcoin - 1 Search
Ripple price drop 3.5 percent
Quora deletes David Schwartz's joke answer
Transaction volumes low as prices range
Quora's moderation team removed David Schwartz's comment because it is a "joke" answer highlighting the level of censorship in centralized systems. All the same, Ripple prices are under pressure and slowly dropping towards 30 cents.
Ripple Price Analysis
Fundamentals
A while back, the blockchain community thought that Ripple and XRP were synonymous and even a split wouldn't cause a differentiation. The argument was that XRP was an Air-drop and without the currency, the platform can still function. Critics went on saying Ripple transactions are reversible considering the then level of centralization.
Well, the decentralization claim has been clarified on numerous occasions by David Schwartz. While addressing the transaction blocking claim, Brad said the company couldn't, at any point, reverse or block transactions on its XRP Ledger.
Now, David Schwartz the CTO of Ripple experienced firsthand what censorship is when Quora moderation team deleted his his "joke" answer. Quora's terms are clear and stating that "Answers and Reviews that are intended as jokes are not helpful responses. Besides, humorous answers and reviews that deliberately misinterpret the intent of the question/topic will be collapsed."
Candlestick Arrangement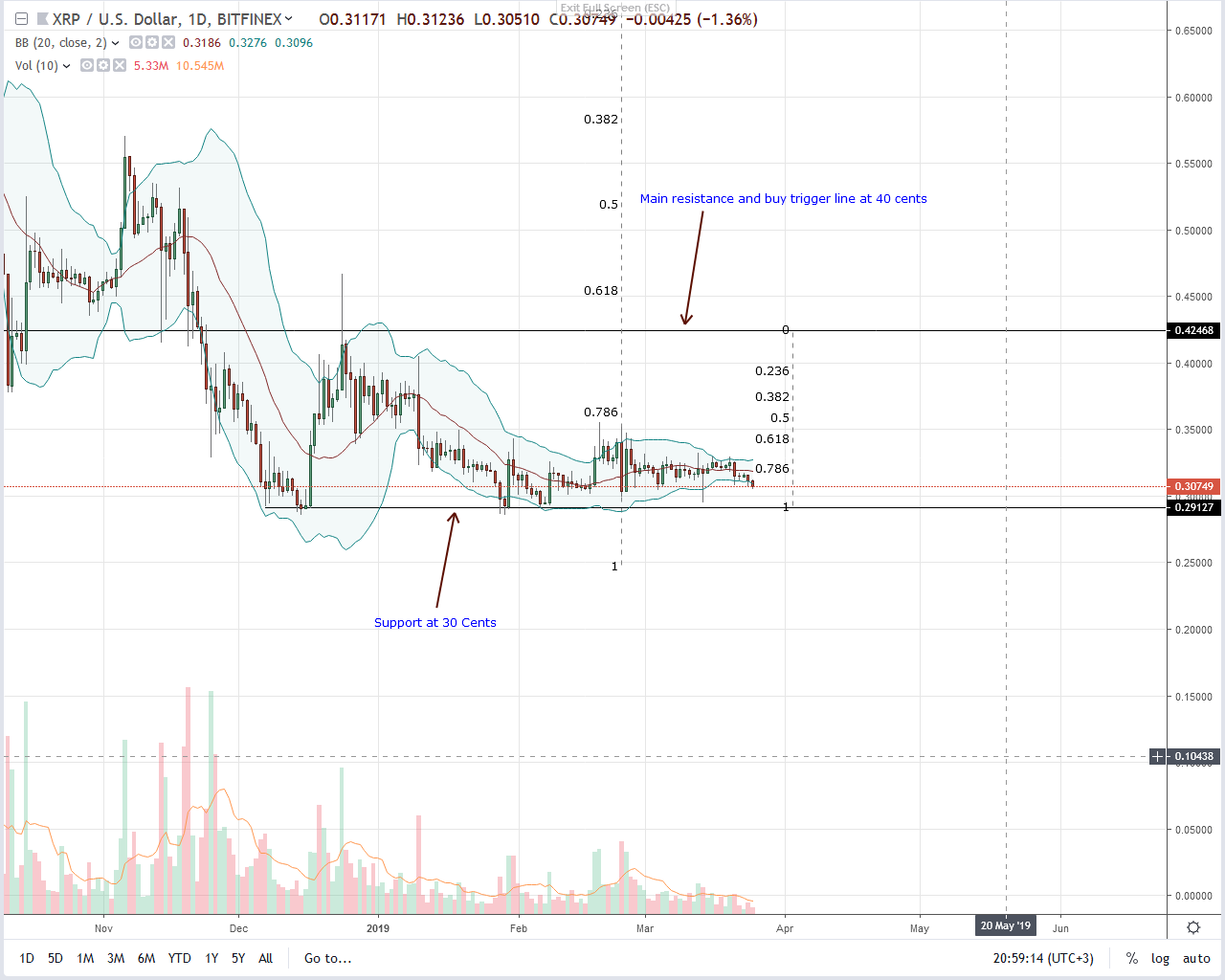 Aside from Stellar's XLM, XRP is the second-worst performer in the top-10 and down 3.5 percent from last week's close. It is likely that prices will trickle lower in days ahead as sellers of Feb press the liquidation medal driving prices towards 25 cents as our previous XRP/USD trade plans are invalidated. As it is, the selling momentum is strong. As prices band along the lower BB, we shall instead shift our focus to how Ripple (XRP) prices will react at Mar 14 and Feb 30 lows. The level is an important support line and marks the base of Q4 2018 and Q1 2019 lows. Any break below would see XRP drop to 25 cents.
Technical Indicators
What's encouraging from a technical point of view is that this Ripple (XRP) is at the back of low participation. By yesterday's close, averages stood at 11 million which is far lower than those of Feb 24-25 averaging 32 million. Therefore, unless otherwise there are sharp drops with averages rising to 40 million for example and accompanying bar above 34 cents or below Q1 lows above 61 million, we shall maintain a neutral but bullish overview on XRP price.
Chart courtesy of Trading View